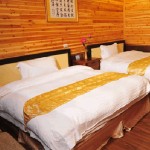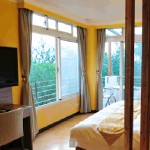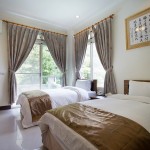 Zen and Pine Resort is a refined B&B imbued with the simplicity of the Zen spirit, combining elements both elegant and modern.
Accommodations include a variety of room size and bed configurations:
Our cozy accommodation and sincere service will let you embrace a truly relaxing stay of leisure and renewal.
The Zen and Pine Resort maintains high standards for its guests, seeking to provide the utmost in service and facility satisfaction. Recently, Zen and Pine has received critical praise from the Nantou county government for excellence in the areas of service friendliness, and facility cleanliness during a 2013 evaluation of area businesses.
In-room Amenities
Standard amenities for each room include cable TV, free Wi-Fi, air conditioning, and toiletries, including a full dental hygiene kit.
Meeting Room
In addition to a choice of suites, there is also a bright and spacious one hundred-seat meeting room suitable for any social occasion however formal or informal such as seminars, conferences, meetings, activities, or even Karaoke singing.
Business Center
The business center includes a windows-equipped PC, a printer and a photocopier.
Food and Beverage Service
Food choices include Chinese buffet breakfast, lunch menu, afternoon-tea service, dinner menu, mid-night meals, and healthy vegetarian meal options.
Transportation Service
Free two-way shuttle bus service for guests (reservation) to the Shuili Train Station.
Free outdoor parking lot contains 20 cars.
Policies
Pets are forbidden.
No smoking, alcohol, or betel nuts are permitted on site.