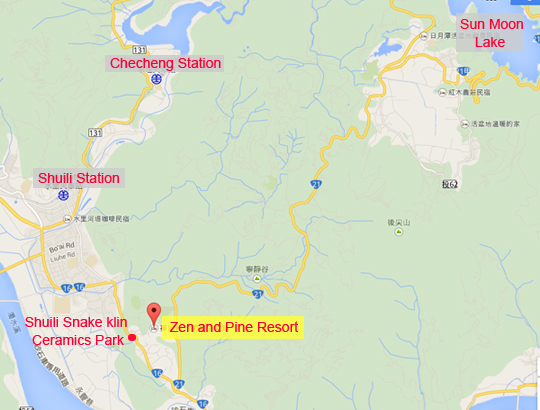 By car
Zen and Pine Resort is located on Provincial Road (PR) 21, on the way from Shuili to Sun Moon Lake, at the 75.5 kilometer road marker.
Whether you are coming from North or South, Highway 3 is a major access route. Leave highway 3 at Mingjian Interchange and drive on PR 16 east heading to Jiji and Shuili. After driving through Shuili and passing the Snake Kiln about 1 km, you turn left to be on Dingping Road, also known as PR 21 toward Sun Moon Lake for 800 meters. Zen and Pine Resort's entrance is just on the left side.
Public Transportation
1. Taiwan Railway: Take Jiji Line and stop at Shuili Station
2. Bus station: Take a bus from the All.Da.Bus company and arrive at Shuili Station, or a Kuo-Kuang company bus and arrive at the Sun Moon Lake Station.
Guests may be picked up at these locations by a shuttle bus; however, we recommend to make a reservation in advance for this service.